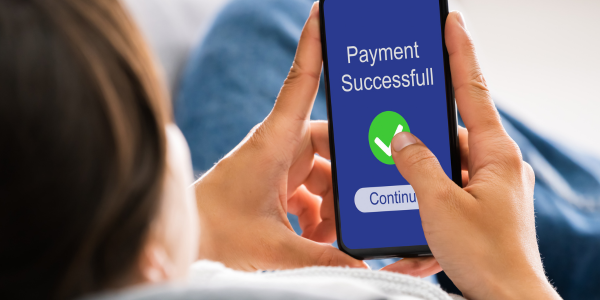 Picture this, you're hungry so you decide to place an order on a food delivery app. When it comes time to pay, nothing stands in your way. You click the pay button and just like that, your order is placed. You check your email and your receipt is already in your inbox. Your entire payment process was seamless.
Welcome to the world of embedded payments where customers no longer need to enter their card information, eliminating the need for third-party payment apps or the need to swipe a card with the delivery driver. There is nothing left for the customer to do other than wait for their food and grab it when it arrives.
With delivery apps like Door Dash and Uber, the payment process happens "behind the scenes". One-click payments are generally expected in these apps, and they are known for providing the easiest possible experience for the user. As a consumer using the embedded payments function in an app is quick and easy. You enter your card or account information one time and then it is securely stored within the app making in-app purchases a click away. easy
Consumers generally expect a frictionless payment experience. With embedded payments, businesses are easily able to meet these expectations, on multiple fronts. If you pay attention, embedded payments are all around us, and are becoming increasingly popular, not just for consumer-to-business payments, but for business-to-business transactions as well.
While integrated payment solutions are a good way to accept and process payments, they are not the most efficient way to facilitate transactions as it requires two separate applications to communicate. Rather than going from app to app, embedded payments allow customers to pay for a product or service without leaving the original app you are making the purchase in.
According to Juniper Research by 2027, revenue from embedded financial services, including payments, is expected to globally exceed $183 billion rising from $65 billion in 2022. This growth will come from non-financial businesses implementing embedded finance options into their apps to streamline the checkout process. The current market for the use of embedded payments is unlimited. Embedded payments are able to be implemented anywhere commerce takes place whether that be within a brand's app, social media site, or digital marketplace. Subscription-based services, gaming platforms, healthcare services, insurance, and other businesses that involve regular or recurring payments from customers are markets soon to be brought into the world of embedded payments.
The advantages of embedded payments are ease of use and improved back-office efficiency, however, another advantage is the ability to connect to a business's ERP system which facilitates data flow between the payment app and ERP platform. By integrating an embedded payment app with your existing ERP system you will automatically tie together multiple business processes and create an influx of flowing data between the app and ERP system. This data can be used to create customer profiles, marketing campaigns, and other personalized digital experiences which will allow businesses to identify opportunities to upsell/cross-sell.
Embedded payments are also gaining traction in the business-to-business payments space as B2B buyers are expecting the same frictionless buying process. If a business offers an elevated, seamless customer experience through payments, the likelihood of securing repeat customers and attracting new customers greatly increases. With embedded payment capabilities your accounts-payable employee can quickly identify outstanding payments and send an invoice directly through their ERP system.
Banks are also starting to dip into the embedded payments market, mostly through partnerships with fintechs and software developers. These partnerships foster the opportunity for fintechs and banks to broaden their range of respective services as partners.
With customers increasingly expecting a frictionless and intuitive payment option, embedded payments are the elevated way for merchants and businesses to enhance their digital user experience while improving efficiency on the back end. Curious about embedded payments? Sync can help you streamline your business processes and deliver a seamless payment process for your customers. Let us be your fintech solution partner! For more information on how we can help your business implement embedded payments complete the contact us form below or send us an email at details@syncpayments.com.